Sale!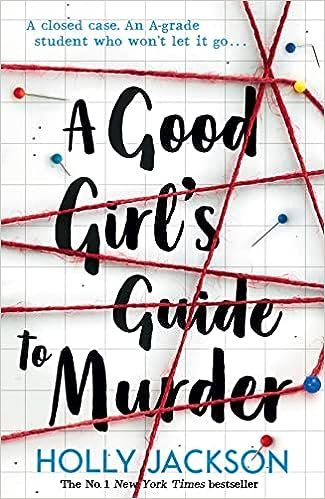 A Good Girl's Guide to Murder
In the gripping and suspenseful thriller, "A Good Girl's Guide to Murder" by acclaimed author Holly Jackson, a seemingly perfect town conceals a dark and chilling secret. This electrifying young adult mystery will keep readers on the edge of their seats as they navigate a web of lies, deception, and a determined young girl's quest for truth.
Pippa Fitz-Amobi is a model student and a rule-follower in the quaint town of Fairview. When her senior capstone project prompts her to reexamine a local murder case that was supposedly solved five years ago, she starts to unravel a complex tapestry of mysteries that threaten to shatter the town's idyllic façade. The victim, Andie Bell, was believed to have been murdered by her boyfriend, Sal Singh, who then committed suicide. But as Pippa delves deeper into the case, she discovers inconsistencies, hidden motives, and shocking new evidence that point to a more sinister truth.
With her keen intellect and determination, Pippa enlists the help of Ravi Singh, Sal's brother, who is desperate to clear his brother's name. As they dig into Fairview's dark past, they unearth long-buried secrets and ignite a chain of events that put them both in grave danger. The more they uncover, the clearer it becomes that someone in Fairview will stop at nothing to keep the truth hidden, even if it means eliminating those who get too close.
As Pippa races against time, readers will find themselves immersed in a maze of twists and turns, as the lines between innocence and guilt blur, and the definition of a "good girl" is challenged. With its compelling characters, unexpected revelations, and an atmospheric setting that heightens the tension, "A Good Girl's Guide to Murder" is a heart-pounding thriller that will leave you guessing until the very last page. Holly Jackson delivers a masterful narrative that explores the darkness lurking beneath a picturesque exterior and the power of determination to unearth the truth, no matter the cost.
Owner : Aniket Verma Available : In stock Genre : New Arrival
| Publication : ‎Delacorte Press